BED & BREAKFAST
La Lit'Hôte
BIENVENUE
Once Upon a Time… in Auvergne
The Lit'Hôte was built in the 19th century, then a presbytery which in a few decades was the setting of a historical chapter in the charming vineyard village of Mirefleurs.
Rooms
3 bed-and-breakfast character rooms, both old-styled in the decorum and modern style in comfort, and a cottage.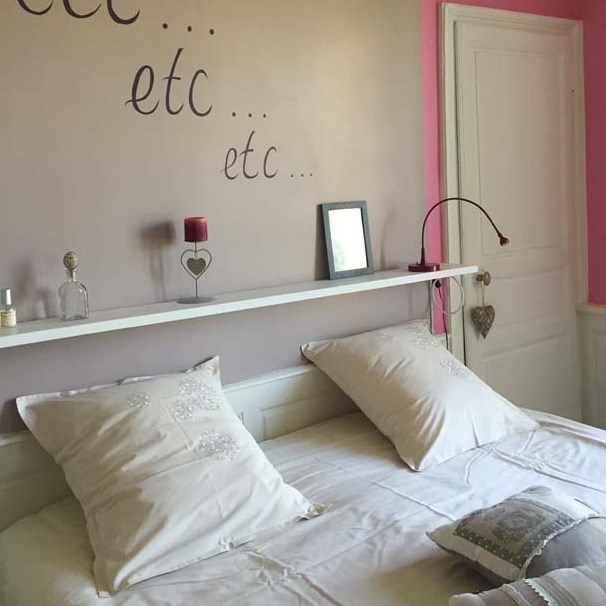 ET CAETERA…
The "and so on" room can accommodate four persons (area : 40 m²) It is a surprisingly original room with a baroque decoration and a bathroom (bath, shower and toilet) fitted out in the former chapel.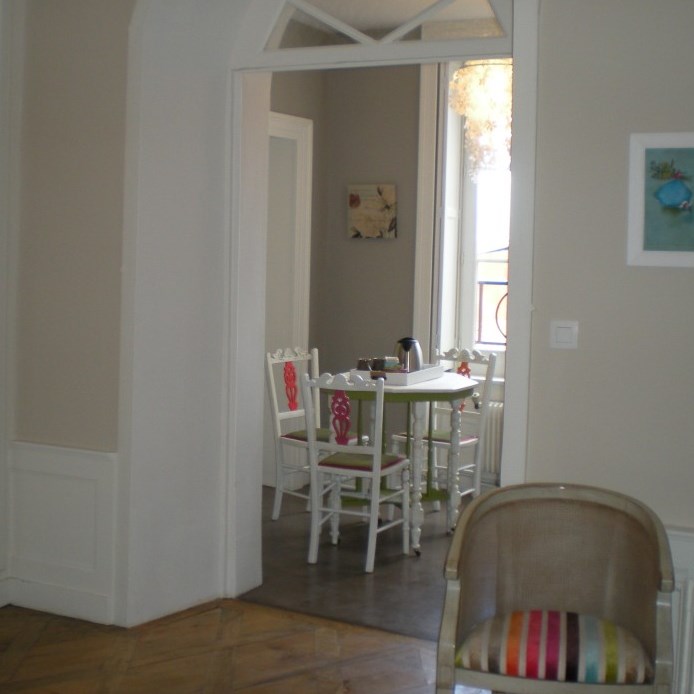 PARENTHESE
The "bracket" room can accommodate two persons. Equipped with a work area and a bathroom. It is attractive due to natural materials "wax concrete and marmorino) giving a "cosy" atmosphere to that comfortable room.
New
THE COURTYARD COTTAGE
The cottage has been renovated in 2023. This independent accommodation features a spacious enclosed courtyard with a separate entrance. The 30m2 studio includes a sleeping area with a queen-size bed (140 cm), a fully equipped kitchen (stovetop, oven, fridge, microwave, washing machine), and a bathroom with a shower, sink, and toilet.
Availibility
Please, enter the number of guests (adults & childrens) in the following form:
La LIT'HOTE
You are Welcome
REVIEWS
What travelers say…
The rooms are extremely comfortable and well appointed and very quiet for a good nights sleep. The owners are lovely people and make you feel very welcome. The breakfast served the next morning was one of the nicest I've had in our French travels and included fresh fruit salad and a delicious and freshly squeezed orange juice (easy to do but so seldom done by owners), It's a lovely out of the way place to rest and relax with wide open views across the countryside and on to the mountains. It's also very convenient for the Zenith Auvergne which was our reason for staying there. Highly recommended
This is a boutique hotel converted from what used to be a presbytery. The rooms are large and nicely cool in the hot weather. The owners made us feel very welcome, and it is best to arrive between 5 and 6 pm. We had an evening meal at her neighbours house, (La Feniere), and while we should have studied our French conversation more, the evening meal was the best that we had during our 2 weeks in France
JrFranc1
We were looking to spend a couple of night in the area to explore the small towns. We were lucky to stumble across Le Lit'hote thanks to Tripadvisor. The hotel is in the heart of town in a converted presbytery. Only 3 rooms but they are large and very comfortable wist a nice view across the countryside. The breakfast is excellent also with some home baked goodies and confitures. The hosts couldn't be more pleasant and also can recommend places to visit in the area, recommendations which we followed. They do not offer dinner but suggest good places to dine within 10-15 minutes of the hotel.
GVVAGL
This was a charming Bed & Breakfast in a lovely old house. It is beautifully decorated and is the bedroom was very comfortable . To get there you drive through very narrow streets and is high up on a hill. Once through the gate you have free parking. There is a wonderful view of the Puy de Dom . We were made most welcome by our host and offered a cool drink in the garden with the view.
Rhonda L



mariepierre.colli@gmail.com